Route 66 Motorcycle Hire
Interested in riding Route 66, but want to do it your own way, at your own pace? Then consider hiring an Eaglerider motorcycle from The Lost Adventure. Feeling spontaneous? Choose your own arrival and departure dates, set your own schedule. Fly into Chicago, pick up your bike (Harley Davidson, BMW, Triumph and Honda Goldwing motorcycles are available) and head off on the Mother Road to California. It's 2,345 miles and the journey takes you through eight States. You'll see Springfield, St. Louis, Oklahoma City, Amarillo, Santa Fe, Kingman, Barstow – all the towns in the old Nat King Cole song.
Route 66 One-Way Rental
13 Days Hire
Pick Up: Chicago
Drop Off: Los Angeles
Rate Varies Depending on Motorcycle
Harley: £1568 or $2461 USD (including One-Way Fee)
Triumph Bonneville: £1345 or $2112 USD (including One-Way Fee)
BMW or Goldwing: £1729 or $2715 USD (including One-Way Fee)
Optional SLI and VIP Insurance £429 or $674 USD additional
We offer discounts for active military, Police and Fire Officers.
(If you're interested in a fully Guided Route 66 Motorcycle Tour, click here.)
Two weeks is the perfect amount of time to ride Route 66 and see everything there is to see. There are endless photo opportunities, small towns with diners that serve the perfect burger, deserted old gas stations and abandoned tourist stops from the 1950's. You want to take your time and soak it all in – Route 66 is a virtual time machine.The riding is easy, the speeds fairly conservative. There are twisty roads once you get into Arizona, but riding the Mother Road is more about getting on a wavelength, letting the journey unfold. Everyone who rides Route 66 comes away with a special, unforgettable feeling.
Of course, a detour to the Grand Canyon or Las Vegas is easy. Unlike a fully guided tour, your itinerary is your own to choose. And if you need tips on where to stay and what to see, let us know. We offer discounts for large groups, clubs, active military, Police and Fire officers. The Lost Adventure is a fully authorized EagleRider Tour Operator with the most competitive rates for bike hire, guided and self guided tours – contact us today and get your kicks on Route 66! 
Route 66 Motorcycle Hire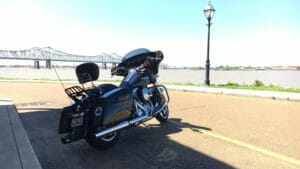 2018 Milwaukee 8 Street Glide ErgonomicsMaybe I'm just lucky but the new M8 Street Glide is a perfect ...