Great Rides From Los Angeles: Big Bear Lake
In late September, we met up with our buddy Shawn from EagleRider, who invited us on a ride from ERHQ in Los Angeles to Big Bear Lake. We often ride Harley Davidson motorcycles from EagleRider, but on this trip, we sampled some more exotic mounts from the hire fleet: a 2012 BMW 1200 GS, a 2013 Triumph Tiger 800, and a 2013 BMW F800GT. We'll be posting a ride review of these bikes in the 2nd part of this story, coming soon.
If you're visiting Los Angeles during the summer months and plan on hiring a bike, you have to ride these roads. Contact us for great rates on EagleRider motorcycle rentals.
The first part of the ride to Big Bear Lake was on one of the best motorcycling roads in the Los Angeles area: the Angeles Crest Highway (also know as California State Route 2). 66 miles in length, the Angeles Crest is a challenging test environment for any motorcycle: elevation that exceeds 7000 feet in some places, blind and decreasing radius corners galore, rockfalls that litter the road in places, and very few sections where the bike isn't on it's side for the entire 66 mies. To ride this road quickly, you have to be a very skilled rider. We rode at a moderate but exhilarating pace. For more on the Angeles Crest Highway, click here.
You can't ride the 2 without stopping at Newcomb's Ranch, known as the "informal headquarters for riders". Jay Leno has been known to stop here. During the week, it's easy to pull up, park next to a few bikes, go inside and have some great chili, but on the weekends, the place can get packed. In fact, we wouldn't recommend riding the 2 on a Saturday or Sunday. Lots of riders of varied skill levels ride these roads, there's heavy police enforcement and you're almost guaranteed to see a meat wagon (ambulance). Ride the 2 mid-week and you'll enjoy it far more.
From Angeles Crest, we hopped onto California State Route 18, also known as the Rim Of The World Highway. While 18 is a less technically challenging ride than the 2, the scenery is unbelievable, as you ride literally along the rim of the San Bernardino mountains. On this day, we rode the 18 above the clouds, with the base of mountains visible below the cloud cover, and the tops peeking through the mist like clouds. There was a distinctly "Lord Of The Rings" vibe to the scenery, and it was incredibly inspiring to have this as a backdrop to our final destination: Big Bear Lake.
Big Bear Lake is a small city which sits on the shores of (you guessed it) Big Bear Lake, surrounded by the San Bernardino National Forest. We've been riding in this area for almost ten years now; the city is laid back, a great destination after an intense day riding canyon roads. It can get very chilly at night, even in the summer, so it's great for getting a warm drink, sitting beside an outdoor fire and bench racing. There are a few places to get a drink in Big Bear Lake, but our favorite is Murray's Saloon And Eatery. They've got great bar food, Guinness on tap, wonderful friendly bar staff, billiards and karaoke. Go there, you'll have a good time.
Lodging in Big Bear Lake is plentiful, although it does make sense to book ahead, as rooms can sell out, especially on holiday weekends. The summer and early fall months are really the only time you can ride to Big Bear Lake  because of the weather. In fact the Angeles Crest is usually closed in parts during the winter months, and only recently reopened in it's entirety due to huge winter avalanches that damaged the roads significantly. So while you can hire a bike in Los Angeles and ride pretty much any month of the year, this is one ride you'll need to do between June and early October. In fact, you should check the road status before doing this ride, just to be sure rock slides haven't closed any portions of the roads. The Caltrans website is very handy for this, visit it here.
The ride to Big Bear Lake from EagleRider's HQ at Los Angeles Airport took us about 5-6 hours with stops, making it a great day ride from LA. Stay tuned for part two, where we'll provide our riding impressions of the bikes. And if you need to hire a motorcycle, be sure to contact us!
Jim McDermott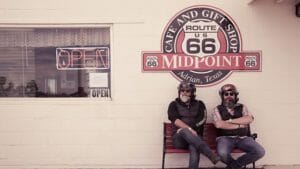 The Hairy Bikers - love them or hate them they certainly know how to plan a good road ...