Eddie Rickenbacker's San Francisco Motorcycle Bar
A motorcycle tour isn't just about the roads or the scenery. The places you stop to rest, eat, neck a few beers and talk about the day's ride with your friends tie it all together. When we tour, part of the fun is finding new, memorable places to stop along the way. Before a tour, we do a lot of research online about the route we'll be taking, to find interesting places ahead of time. But Tim and I both very well traveled, and if you journey enough, you start to develop certain instincts; you do less hunting, and special places present themselves to you.
This was the case with Eddie Rickenbacker's bar in San Francisco, one of our favorite motorcycle destinations in America. Tim and I were walking down the street after finishing our 2010 Laguna Seca MotoGP tour, and stumbled across this incredible establishment, which is filled with vintage bikes, many suspended from the ceiling by wires. We were lucky to meet the owner, Norm Hobday, who subsequently passed away in early 2011. Eddie Rickenbacker's has great food and drinks, and features a collection of vintage motorcycles, toy trains, Tiffany lamps, and late 1800's firearms that is just incredible.
We were so impressed by the place that we decided to have our final night's dinner there, to celebrate the completion of 2011 Coast To Coast tour. The maps we used to cross America were spread out as tablecloths, all marked up with yellow highlighting pen. The Lost Adventure's contribution to Michelin Cartography was beer, gin and hamburger stains!
POSTSCRIPT: In 2012, most if not all of the lamps and bikes at Eddie Rick's were auctioned off, which is an absolute tragedy. We're glad we got to spend some time with Norm Hobday and his incredible collection before both were scattered to the four winds – Eddie Rickenbacker's is probably still a good place to grab a drink, but we doubt it's anything near as special as what is once was. All good things must come to an end…..
I wrote a story for SuperbikePlanet about meeting Norman Hobday in his bar last year, and the stories he told us. You can read it here.
And for photos from our 2011 visit to Eddie Rickenbacker's, check out The Lost Adventure's Flickr gallery here: http://www.flickr.com/photos/thelostadventure/sets/72157627392358541/
Capt. Eddie Rickenbacker's is located at:
133 2nd Street
San Francisco, California 94105
(415) 515-7583
Visit their website at: http://eddierickssf.com/
Have any stories to share about Norman Hobday or Eddie Rickenbacker's? Please leave your comments below!
– Jim McDermott
Eddie Rickenbacker's San Francisco Motorcycle Bar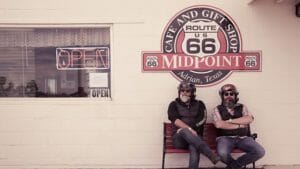 The Hairy Bikers - love them or hate them they certainly know how to plan a good road ...